Nicolet High School - Class of 1959
(Written on June 30, 2000, after our 41st Year Reunion - cleaned up May 19, 2005)
Here are a few pictures taken during the recent 40 plus one year NHS Reunion. The little guy is Ed Carberry. (Remember, he was the quiet nerdy guy.) I am just learning how to put these on a web page (as I used to have a top notch Russian computer expert do it all for me before). Thus the quality and quantity may not be what you may like, but enjoy what there is. And, by the way, there is no order whatsoever to these photos. I think we will all agree that it was a great weekend, and lots of friendships were renewed and lots more were developed. Thanks to the organizers!
NOTE: If you are using a modem rather than a cable hook-up, you may experience some problems loading this whole document. Since I do not have all the HTML skills and shortcuts down yet, the pictures may take "too long to load" for many modem users. Thus, if your server says, "hey, this person has tied up the line too long", it may shut the transfer down. Several people had this problem and one of my two suggestions worked for each of them. Try to load as "low-use times on the web" (e.g. 3 AM) , or maybe better, if it only half loads, close the page and immediately try to load once or twice more. Why this works is complicated, but has to do with the fact that our computers have a cache (brief memory) which allows it to load recently used stuff faster than new stuff. So, after doing this a couple time, it will all be "recently used stuff" In the future, I will figure out better ways to load so many pictures (compression), but right now, I am just learning. Always a student!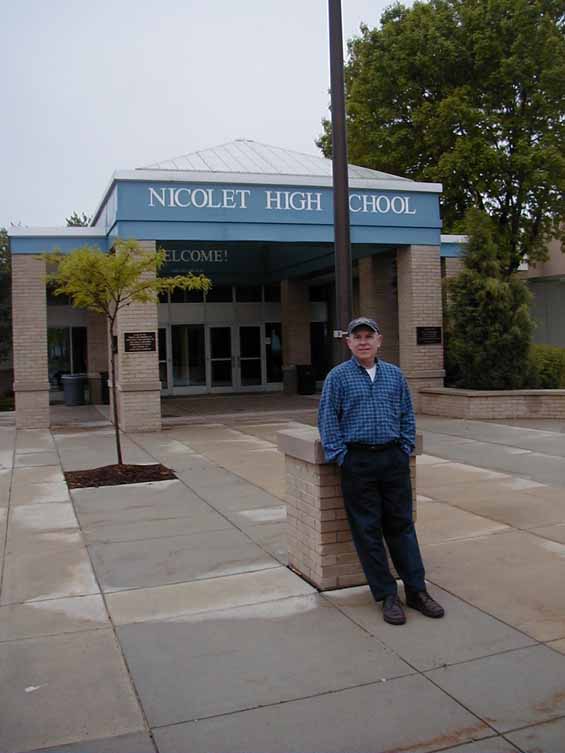 I know this is very corny, but I dedicate this experiment to develop this web page to a NHS chemistry teacher who taught me so much in so many ways. He was the kind of teacher who encouraged everyone to do what is intellectually expanding. He was one of the teachers who proved that learning can be fun, and this has become the center of my own philosopy of life. I have several thousand other things that need to be done, but for some reason, I am sitting here learning html. And I am doing this because I love to learn. Thank you to all the great NHS teachers, but especially to Jerry Fischer. I hope I am as young as you are at 84 yr, Jerry. Thanks.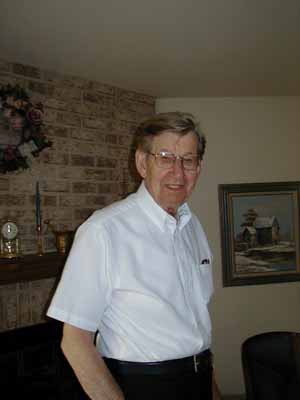 Reunion Photos
Dr. Richard Cash, M.D. He looks like a Harvard professor and he is!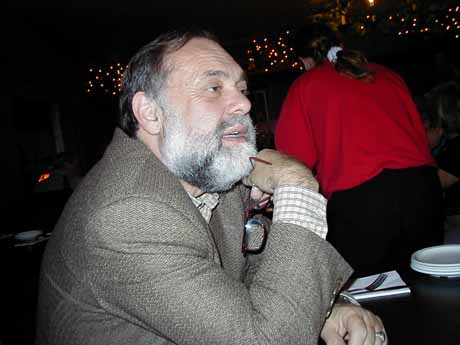 Long lost friends Sue Armstrong, Ed Carberry and Elizabeth McDonald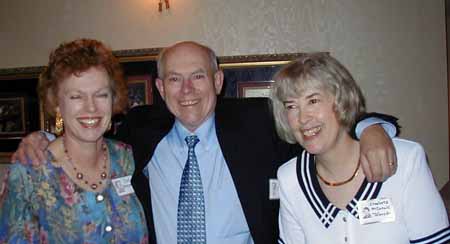 At the friday evening "Pre-Reunion" party at Mamma Mia's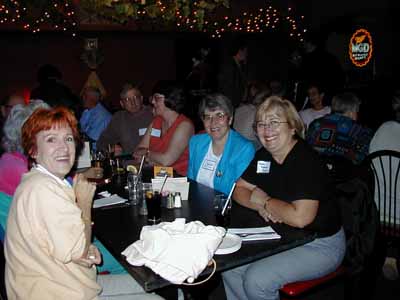 Contest for "Most Unchanged Gals" Diane Effenheim, Julia Baldi, Carol Heinl and Margo Jones
with Jack Kupper counting the votes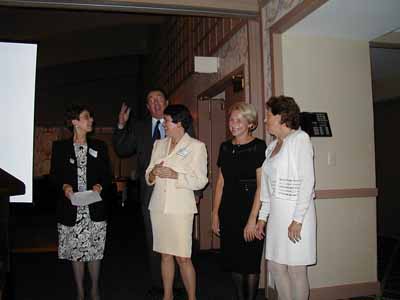 Master of Ceremonies Wally Schoenfeld with very cool letter sweater
(remind Ed not to take photos with a white screen in the background)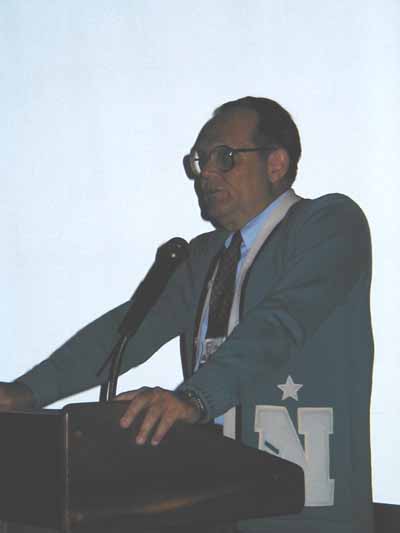 Sue Armstrong and Jane Amerell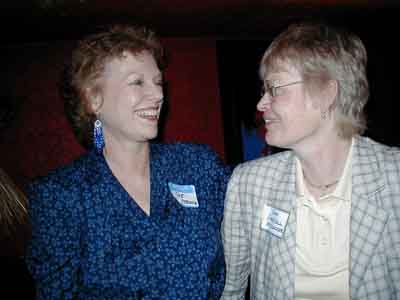 Jay Laskin giving Terry Terhorst the finger (well, sorta) at Mamma Mia's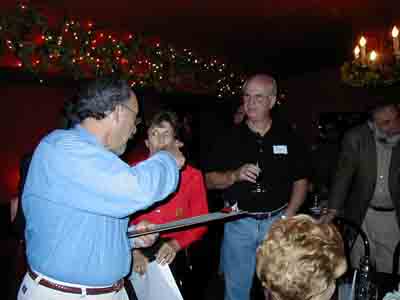 The NHS Tour (Saturday morning)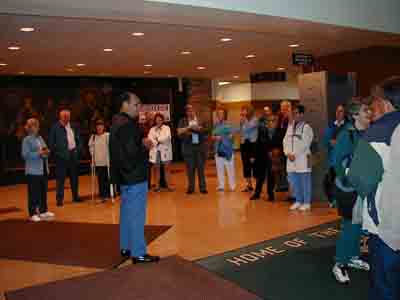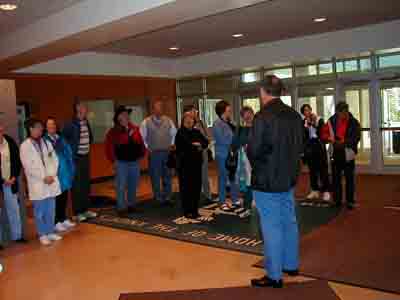 The NEW Pool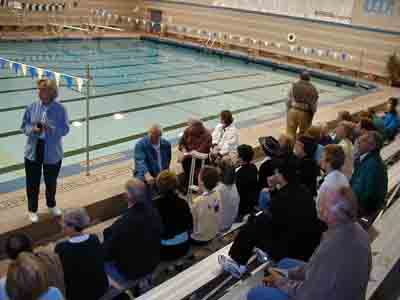 Some sections of my version of the class photo.
(Don't worry. The ones from the professionals will be much sharper than this,as I had to enlarge by 6 million percent (or close to that)


Top Row: Terry Terhorst, Jack Kupper, Jay Laskin, MaryLou Baird
Middle Row: Barb Keller, Rona Borkon, Mary Luker, Shari Nigel, Karen Morgenroth
Bottom Row: Mary Martins, Chris Bauschek, Carol Heinl, Margo Jones, Jerry Frank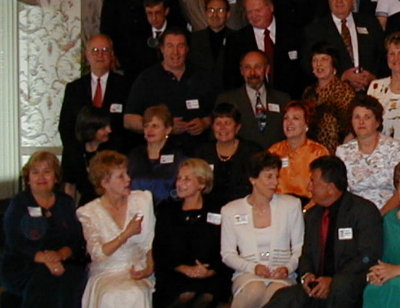 Top Row: Tom Allman, Dicky Draus, James Bloom, Art Meilicke, Elizabeth McDonald, Ed Carberry
Bottom Row: Jerry Quasius, Wayne Schwartzman, Robert Naujok, Tom Semmens, Kave Koven, Sue Armstrong



Top Row: Ed Carberry, Dick Cash, Dick remy, Ken Bender, Bill Wolf
Middle Row: Sue Armstrong, John Klinkert, Mike Wolf, Bev Keller, Sandra Bartels
Bottom Row: Diane Effenheim, June Ramthum, Sue Friebert (sorta), Wally Schoenfeld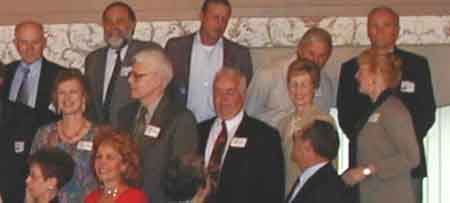 Top Row: Judy Walter, Diane Effenheim, June Ramthun, Sue Friebert (sorta), Wally Schoenfeld
Middle Row: Lenore Sweet, Marcia Kapal, Diane VanderHout
Bottom Row: Julie Hassclkus, Sue Krueger, Julia Baldi, Joanne Fox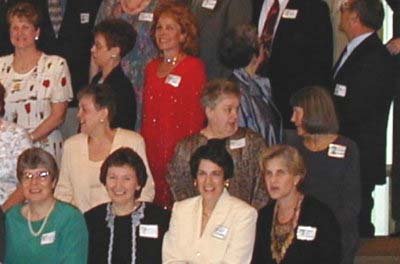 Art Meilicke "artfully" giving his talk at the dinner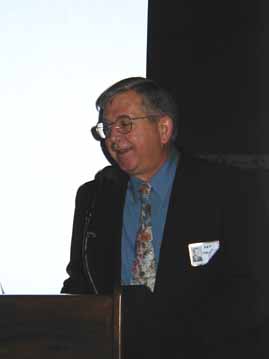 Bev Keller, Susan Schleben and Joan Fox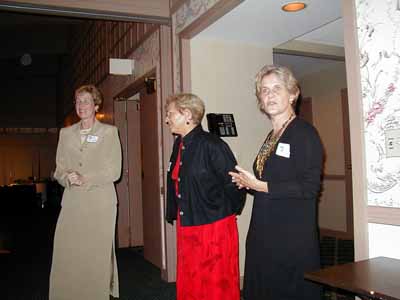 Not a great picture, but it was a great dinner.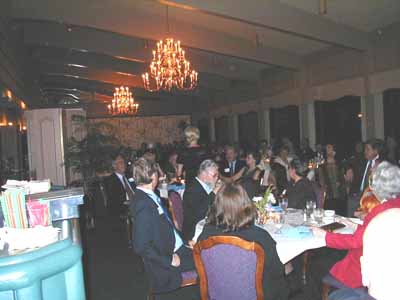 Ed Carberry, Brandy Manhattan and Jim Bloom (aka Jesse Ventura)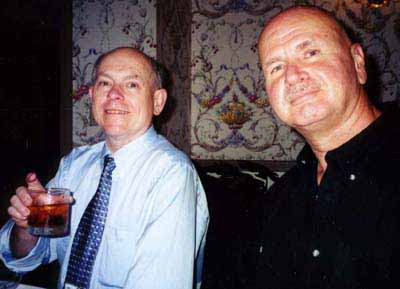 Sue Armstrong (why do I have so many Sue Armstrong pictures???)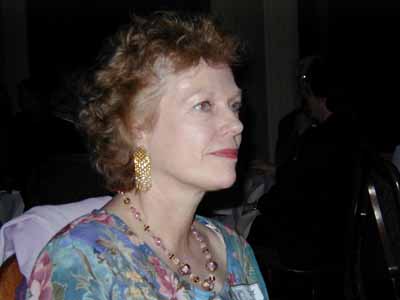 Ed and Barb Keller swap old stories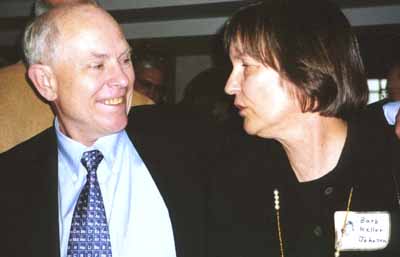 June Ranthum, Wayne Schwartzmann and Dick Cash at Mamma Mia's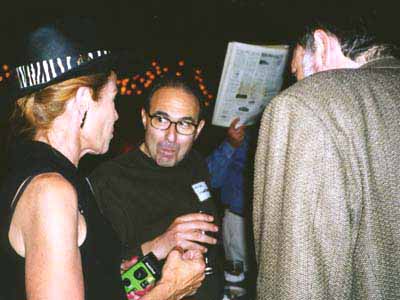 Mary Lou Baird, Dick Cash and Linda Carberry at the all new "old Milky Way"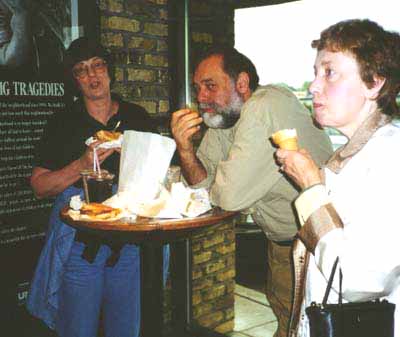 Ed and Sue (again) with Bob Naujok out side their old "research labs"
which have now been converted to janitor offices (go figure)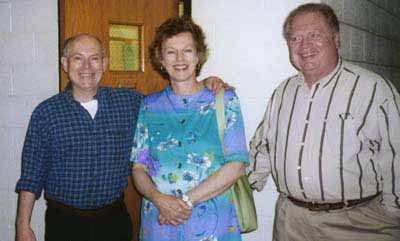 Back to the Saturday morning NHS tour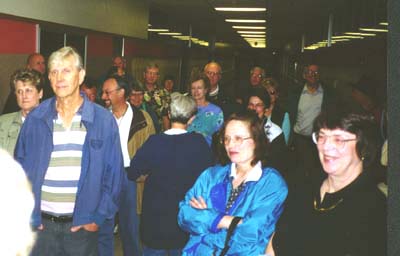 The old library still looks pretty good, but what happend to the stacks of books?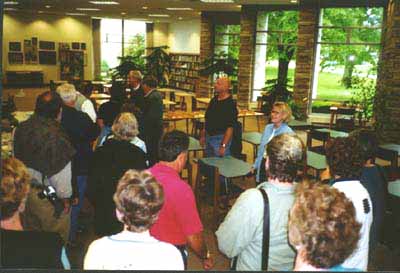 Photos from Bev Keller
Art Meilicke and Bev Keller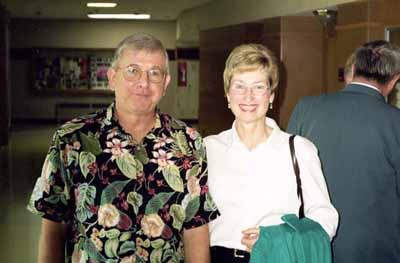 Joan Fox, Mary Martins, Bev Keller, June Ranthum and Sue Schaleben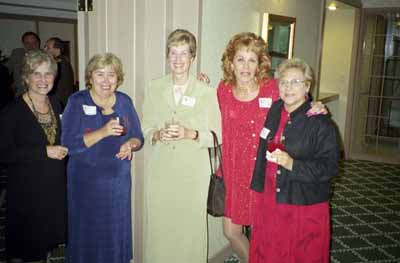 Bev Keller and Jun Ranthum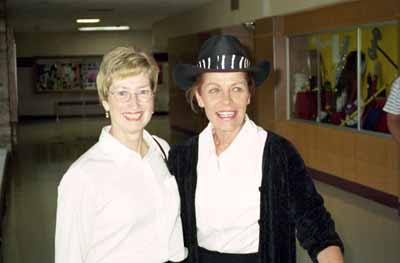 Joan Fox, Sandy Bartels and Bev Keller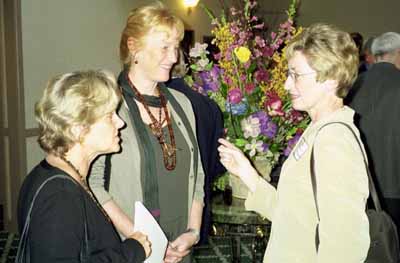 Bev Keller, Astrid Schlicke & Wayne Schwartzmann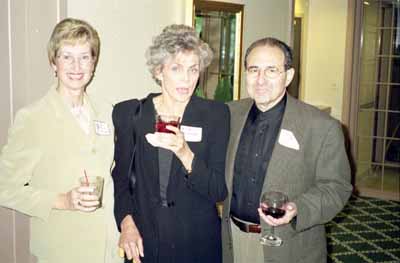 Jerry Quasius, Bev Keller, Dick Kraus and Chris Bauschek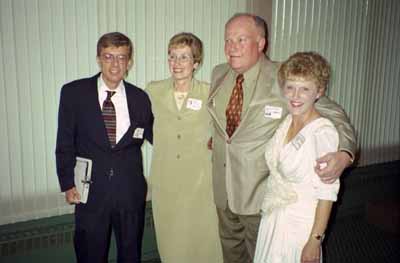 If you have others you would like to share and would like to have them
added to this web page send them to me and I will try to add them when I get time.
Also, I am going to try to list alumni e-mails for all those I have. Let me know if you know others.
Ed Carberry, 700 South First St., Marshall, MN 56258

1959

1999
These were the known e-mail addresses as of June 2000
Keep in mind that they may no longer be correct! Most are still linked. (May 21, 2005)

Amerell, Jane jv@scls.lib.wi.us
Armstrong, Sue sja3@axe.humboldt.edu
Baird, Mary Lou MaryLou.Baird@schwab.com
Borken, Rona sgahr@execpc.com
Carberry, Ed carberry@mgls.com
Cash, Dick racash@hsph.harvard.edu
Fischer, Jerry (chemistry teacher) JeromeJxfx@aol.com
Hicks, Margaret (Maggy) maggie.hicks@lmco.com
Keller, Bev Throndson@aol.com
Klinkert, John johnk@halcyon.com
Koven, Dave Dkovensage@aol.com
Laskin, Jay jlaskin@bcpl.net
Martins, Mary Mtalboys@aol.com
Meilicke, Art Meilicke@gte.net
Naujok, Bob bnaujok@tcei.com
Nelson, Judy jjnel@execpc.com
Pfeil, Ken Kepfeil@aol.com
Shirvanian, Cary CLOES@aol.com
Wolf, Bill BillWolf@aol.com